In a Regina Spektor mood today. These days always make me think a little, or even just want to dance in my room screaming at the top of my lungs the lyrics of this crazy-cute russian girl with a definitively unique musical style. I googled the meanings of some names (mainly of people I know) and according to babynames.com, my name means... Fairy Queen? At least I believe it's russian :)
On another note, last night I went to watch The Proposal, I give it maybe a 2.5 out of 5 stars mainly for it being entertaining. As any other rom-com, it's just lacking in terms of story, dialogue, etc. The scenery was beautiful (the parts where they showed Alaska, anyways...) and I love me some Sandra Bullock, but... Rom-coms are just these pre-made outlines of a movie that will never ever probably be considered a cinematic masterpiece. Definitely a chick-flick, and probably would touch the hearts of those that haven't lived in the real life and experienced real problems and real love and that sort of things. Just like any other rom-com.
On with the salad, today I broke the non-makeup rut yet again and decided to try some blues. The results: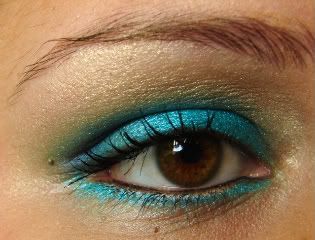 All Aromaleigh (www.aromaleigh.com) eyeshadows: Aqua Nightmare, Peacoat, Planetearth, Wizard Gold. Lovely colors, but I think it's my love for words that's got me buying compulsively from them lately. The names are amazing!
Braces status is: still sucking. Boyfriend status is: still sick. Friday status: promising to be uneventful as of 10:28 a.m.
...Let's see how it goes....
*see, I told you this blog was a salad!*
bye!!!